Stratus offers Continuous availability hardware with 99.999 % availability which is crucial for critical manufacturing applications.
For business, operational technology (OT) and information technology (IT) leaders digitally transforming their business-critical operations to drive predictable, peak performance with minimal risk, Stratus provides zero-touch Edge Computing platforms that are simple, protected, and autonomous.
By delivering zero-touch Edge Computing platforms that are simple to deploy and maintain, protected from interruptions and threats, and operate autonomously, Stratus ensures continuous availability for our customers' business-critical applications.
Zero-touch Edge Computing for up to 10,000 I/Os in Pharma Manufacturing, Food & Beverage, Specialty Chemicals, Oil & Gas, and other industrial verticals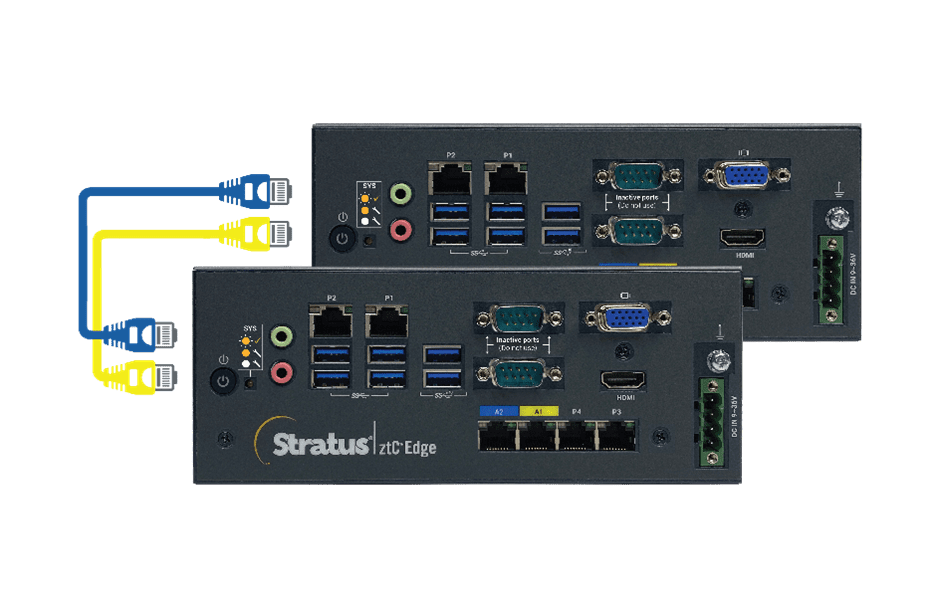 Stratus ztC Edge is a secure, rugged, highly automated computing platform that enables the rapid and efficient delivery of reliable business-critical applications in remote, understaffed locations at the edge of corporate networks. Features like its built-in virtualization, simplified security, industrial interoperability, OT manageability, rugged form factor, automated protection, field serviceability, and complementary services, help companies increase productivity, while minimizing downtime risk.
Key Benefits:
Greater efficiency
Simplified security
Less downtime
More flexibility
Key Features:
Built in virtualization
Simplified security
Industrial interoperability
OT manageability
Rugged redundant nodes
Field serviceability
Automated protection
A fully integrated continuously available platform that's easy to deploy, manage, and service —from the enterprise to the edge.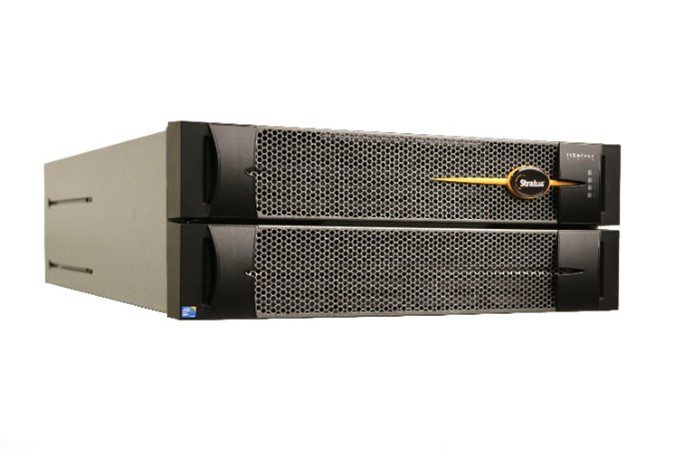 ftServer – complete with hardware, software and services – is an operationally simple platform that will keep your applications running with no downtime or data loss.
Stratus ftServer is a fully integrated, continuously available hardware and software solution for running tier 1 business critical workloads and manufacturing operations and control applications. Offering better than 5 nines availability, ftServer eliminates unplanned downtime and data loss, and ensures all transactions are processed and applications are available, helping companies maximize revenue, production quality, and productivity.
Key Benefits:
No unplanned downtime: Greater than 5 nines availability through redundant components, lockstep firmware, and data synchronization
No data corruption or data loss: All transactions processed because the system keeps operating despite component failure
Faster time to value: Easy to deploy and manage, with no ISV application modifications or failover scripts required
Increased operational efficiency: Self-monitoring, self-diagnosing, self-alerting systems save you time and effort
Stratus ftServer helps companies maximize revenue, production quality, and productivity.
Key Features:
Automated Uptime Layer
Single system with redundant hardware
Industry standard components
Active Service Architecture
Hot swappable customer replaceable units
Affordable, easy-to-manage software to support your always-on applications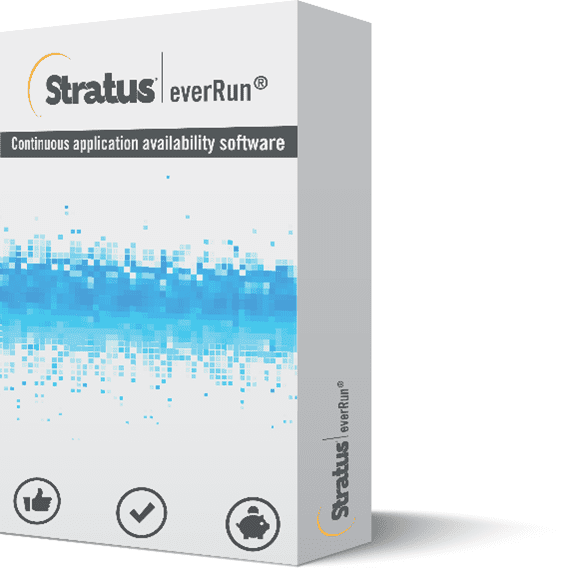 Stratus everRun simplifies the process of making applications available—not just some of the time, but all the time. everRun's software-based solution links two servers together via a virtualization platform that pairs protected virtual machines to create a single operating environment.
The entire application environment, including data in memory, is replicated by everRun, ensuring applications continue to run without interruption or data loss. If one physical machine should fail, the application continues to run on the other physical machine without any interruptions or data loss. If a hardware component fails, everRun substitutes the healthy component from the second system until the failed component is repaired or replaced.
Key Benefits:
Proactive risk avoidance with constant replication to prevent downtime
Protection against localized power failures, building-wide problems, or physical machines failures
Satisfied business requirements and optimized resource utilization
Continuous application availability without configuration complexity
Low TCO through industry-standard infrastructure and flexible storage options
Downtime eliminated with the added benefit of virtualization
Key Features:
Backups and restores
High availability
Continuous availability