Kepware provides wide range of communication and interoperability software solutions focusing on automation industry. Kepware's flexible and scalable communication solution connects, monitors & controls disparate automation devices and third party software solutions.
Kepware industry-endorsed software solutions improve operations and decision making from shop floor to top floor by providing consistent, reliable data across the enterprise.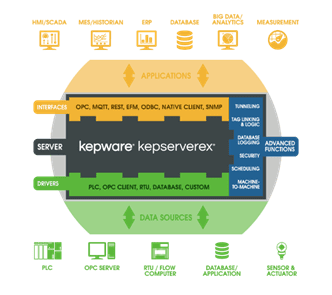 KEPServerEx is the industry's leading connectivity platform that provides a single source of industrial automation data to all your applications. It allows users to connect, manage, monitor and control diverse automation devices and software applications through one intuitive user interface.
Features & Benefits:
Offers a library of 150+ device drivers, client drivers and advanced plugins
Provides industrial operations data to traditional industrial automation clients and new IoT solutions
Meets the highest standards of quality through third party validation
Advanced Tags enables machine-to-machine (M2M) tag linking, logic, and math functions for operational communications and analysis.
Features & Benefits:
Link two data tags
Set a trigger based on logical states
Calculates new values from raw measures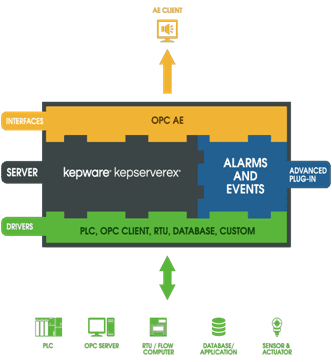 Alarms and events provides a complete framework for defining alarms.
Features & Benefits:
Select tags, define the conditions and trigger thresholds
Receive and monitor process alarms, operator actions, informational messages, and tracking/ auditing messages
Collect and record alarm and event information for audits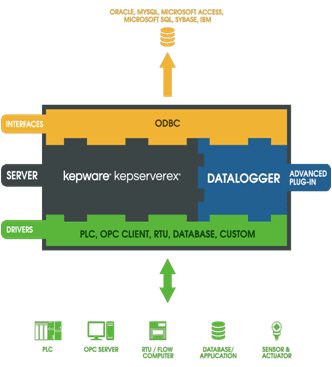 Datalogger logs data from KEPServerEx to any ODBC compliant database.
Features & Benefits:
Offers automatic table creation and ability to append data to an existing table
Easy tag browsing and advanced triggering
Provides store and forward capabilities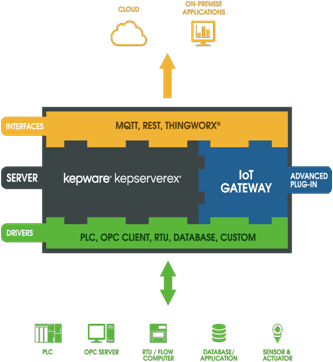 The IoT Gateway seamlessly streams real-time industrial control data from KEPServerEx into IT or IoT applications.
Features & Benefits
Connect operations with Information Technology (IT)
Stream data over MQTT, HTTP/REST and the ThingWorx® AlwaysOn™ protocols
Provides cloud-based enterprise business systems access to real-time data from industrial equipment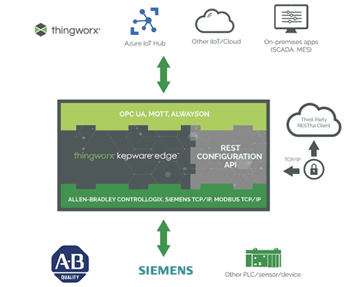 Connect your devices reliably and securely to critical applications and systems with Kepware Edge.
Features & Benefits:
Enables users to deploy out-of-the-box connectivity at the edge of their networks
Connects local, remote, cloud-based applications or platform
Offers reliable and secured connectivity between devices
Other products:
ClientAce – Streamlines OPC connectivity through the Microsoft .NET API
Redundancy Master – Configures multiple OPC servers into redundant pairs
Link Master – Link Master is a universal bridge for both OPC servers and clients