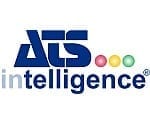 ATS Intelligence is a simple, robust and standardized OEE solution which combines extensive knowledge of manufacturers' needs with proven best practices and technological trends.
Manual and Automatic Data Collection
You can collect production and downtime data direct from the factory floor using OPC connections or via XML files. You can even record data manually alongside the data that is coming in automatically.
Flexible Reporting
ATS Intelligence delivers essential OEE data via quick and clear reports, whether you need an overview of a single piece of equipment or for the whole plant. Live OEE data can be explored anywhere in the world using your internet browser.
Part of the ADOS Suite – Award winning solution
ATS Intelligence is part of the award-winning ATS ADOS suite. Frost & Sullivan has recognized ATS International with the Global Award for New Product Innovation for the ATS ADOS (Attribute, Dimensional, Operational and Shared) software suite, which provides customers with reliable data management platforms to support enterprise management solutions.
Windows 2012 R2 Certified
ATS Intelligence has earned Windows 2012 R2 Certification through the rigorous Microsoft Partner Network partner certification program.